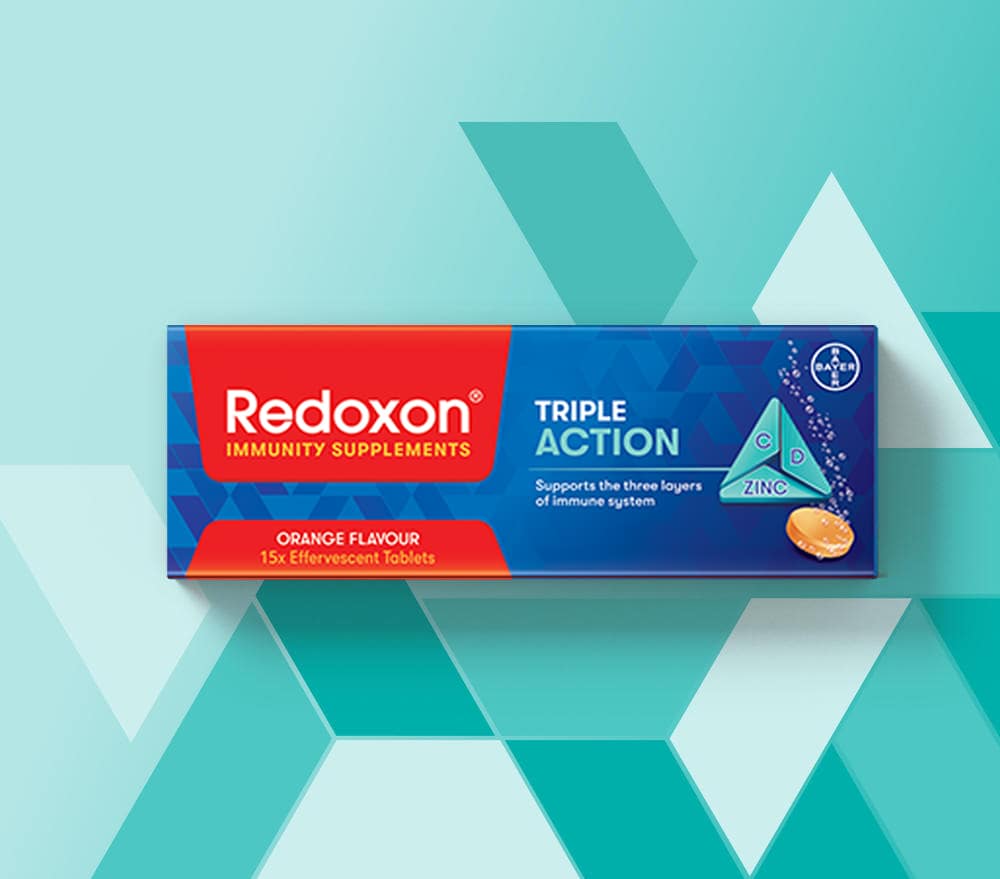 Redoxon
®

Triple Action

Redoxon Triple Action is our advanced daily immunity support supplement for adults. It combines vitamins C & D with Zinc to specifically support the three layers of immunity against daily threats like viruses, bacteria and free radicals. Each refreshing, orange flavoured dissolvable tablet strengthens our immunity system against external daily threats, reduces the severity and duration of cold symptoms, reduces fatigue, and boosts energy. Redoxon Triple Action is also an effective antioxidant which strengthens body's natural defences. Build resilience year-round with regular use & after first symptoms of illness.
Features & Benefits
Provides advanced immune protection
Helps prevent cold & flu
Reduces cold & flu symptoms
An effective antioxidant
Fast absorption due to effervescent form
Boosts energy and reduces fatigue
How It Works
The immune system is highly complex, with thousands of cellular and chemical defenders that keep the body safe from viruses & bacteria. Put simply, the immune system protects us through three lines of defence:
Skin – this prevents viruses and bacteria from entering the body.
White blood cells – these destroy pathogens that have entered the body
Antibodies that inactivate and remember infections.
Active Ingredients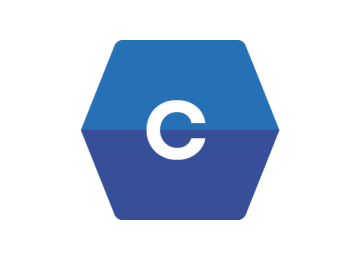 Vitamin C
Vitamin C - also known as ascorbic acid -supports the good functioning of the skin barrier and white blood cells and enhances antibody production.
Vitamin D
Vitamin D supports the activity of white blood cells and is necessary for healthy immune system function.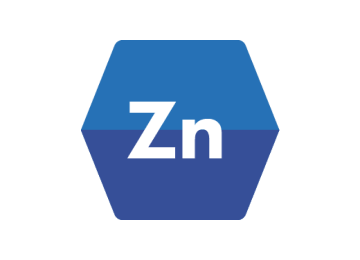 Zinc
Zinc is essential for the production of antibodies, strengthens immune cell production and response while also helping skin healing.
How to use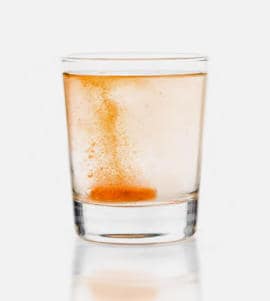 How to use
It's so simple!
Take 1 effervescent tablet per day, dissolved in a glass of water.
For adults and kids aged 12 and older.
Your journey to a stronger immune
system begins here
Frequently Asked Questions
Yes, provided it is taken as indicated in the instructions.
Redoxon® Triple Action Effervescent Tablets are sugar-free – they contain less than 0.5g sugar when dissolved in a 100ml glass of water. On average, each effervescent tablet contains around 0.036g of sugar.
We have no specific recommendations regarding the suitability of Redoxon® for individuals with diabetes and we suggest you speak with your GP or another healthcare professional to get further advice.
NRV stands for Nutritional Reference Value (this used to be called RDA which stands for Recommended Daily Allowance). This is the daily amount of a vitamin or mineral that the average healthy person needs to maintain good health. The % NRV in a food supplement tells you how much of a vitamin or mineral's NRV you get from each dose of the supplement.
Redoxon®  Triple Action Adults is generally considered safe during pregnancy and breastfeeding when used as labeled, however, given the amount of vitamin C is above the minimum recommended daily nutrient during pregnancy, a healthcare professional should be consulted before use of the product.
Redoxon® Triple Action effervescent Tablets are suitable for children over 12 years. It is not intended for use in children under 12 years.
Redoxon® Triple Action Effervescent Tablets are suitable for vegetarians.
The following websites provide useful information about vitamins and minerals:

www.hsis.org

HSIS, the Health Supplements Information Service, is an educational programme that presents the facts about food supplements in a simple, straightforward way with useful information about vitamins and minerals.

www.nhs.uk/conditions/vitamins-minerals

Live Well The NHS Choice website providing guidance on vitamins and minerals.

https://lpi.oregonstate.edu/

Linus Pauling Institute.